Soul Food
August, 2015
It's been a hot summer. Corn was/is early. It is abundant and it is sweet. Silver Rill is still my favourite place to buy freshly picked corn although I will confess that corn at Michell Brothers and Sluggett Farms is delicious.My broccoli, Brussel sprouts, collards and kale are having a hard time with the heat and the fact that I'm doing little to no watering so I've decided to plant in the fall and be grateful
The herbs are flourishing…everywhere Thanks, Jean Vantreight.
Transparent apples have dropped to the ground and I've dried some while turning others into a funky kind of fried apple (caramelized in butter with a bit of brown sugar and a pinch of salt) that I've enjoyed with eggs, bacon and toast.
And the fig tree…well, I just haven't figured (tsk!tsk!) out the fig tree. No matter how I try, it is on its own schedule. I can count 111 lovely green figs that may be ready to eat in a month while almost everyone else I know who has a fig tree is enjoying those succulent fruits right now. The reality is that there is nothing one can do when nature does what it does.
But this is really about the corn
FRESH CREAMED CORN
Remove corn from the cob. It really doesn't matter how many ears of corn you have as long as it's fresh.There are varieties of ways people have for removing the corn kernels and the milk. I'm telling you mine.
You'll need a large bowl and a smaller bowl placed upside down inside the large bowl. Failing that, a Bundt pan will do fine, too. Place a damp tea towel underneath to prevent slipping.
A sauce pan large enough to easily hold the amount of corn you'll have.
Butter, Cream, Salt & Pepper,
An immersion blender
To remove the corn from the cob
You'll need a sharp knife. I mean SHARP. With the sharp knife… Remove the tip of the cob and silk; shuck the corn being careful to remove all of the interior silk
Stand the pointed end of the cob atop the smaller bowl or in the Bundt pan's centre hole.
Using the knife, cut the kernels of corn from the cob. Scrape the milk from each of the cobs.
Over medium heat, melt butter, salt and pepper in the sauce pan.
Add the corn and cook slowly until tender.
Remove some of the cooked corn before adding the cream
Add cream
Then, using the immersion blender – blend until the corn is the consistency you'd like.
Return the unblended corn to the pan and stir.
Enjoy!
EASY CORN ON THE COB
A nice pot of lightly salted boiling water
Remove the tip of the cob and the silk
Remover a few layers of the outer leaves of the corn
Place in boiling water just until the cobs turn a bright green
Remove from the water until cool enough to handle
When ready to eat, simply strip (Shuck) the cob using the leaves as a handle.
No muss. No fuss.
When corn is really fresh, I don't even bother with butter and/or salt
Another note:
This procedure works when you're going to grill corn, too.
Be creative. Make your own party.
01 December 2008

The fall apple harvest has yielded wondrous bounty. I've done a few experiments. If you have cooking apples, you might be interested in trying one (or more) of these preparations.

Remember that some wise person said, "Cooking is like love. It should be entered into with abandon or not at all."

LOUISE'S ROASTED APPLES- 2008

Wash apples
Put into a roasting pan or baking dish
Into the pan - in this order - add
Italian White wine vinegar, Japanese rice wine vinegar, honey and lavender.
Cover and put into a very slow oven (mine was 225 F)
Roast apples until they're soft but not mushy.
Basting the apples every now and then is a good idea.


Serve warm with a bit of cream simply poured over the apple. YUM!

-----------------------------------------------------------------------------------------------------------------------------


LOUISE'S ROASTED APPLESAUCE- 2008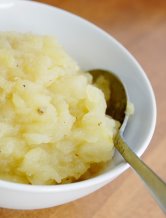 Wash, quarter and core apples
Slice apples into fairly equal widths to accelerate the roasting time
Put into a roasting pan or baking dish
Into the pan add Sea Salt, Organic Maple Sugar, Ground Cinnamon, Dried Ginger and Freshly ground Tellicherry Black Pepper
Yep! Black Pepper. It contributes to a marvellously flavourful sauce.
Cover and put into a very slow oven and roast apples until they're mushy.
Basting the apples every now and then is a good idea.
Process in a food processor or with a hand blender until smooth.
This sauce can be preserved.
I enjoyed it with roasted fresh pork and sauerkraut. It was also wonderful on toast with a little (or lots of) butter or in bowl - warmed just a bit and served with a dollop of rum or apple jack. YUM!
Let me know what you do.
-----------------------------------------------------------------------------------------------------------------------------
LOUISE'S 2008 MEAT, FISH and POULTRY RUB
Dried Granulated Garlic, Organic Brittany Sea Salt,
Organic Maple Sugar, Freshly ground Tellicherry
Black Pepper, Dried Oregano, Dried Basil, Dried Rosemary,
House Made Dried Ginger, Spanish paprika, House Made
Lemon Pepper, Ground Habanera Pepper,
Ground Turmeric
You'll discover the quantities and the mixture that works for you.
Massage well into the flesh of meat, fish or poultry.
This mixture was a real winner!
-----------------------------------------------------------------------------------------------------------------------------
When I was a little girl, I loved to watch my Nannie (maternal Grandmother) cook. I would watch carefully as she moved effortlessly around her small kitchen choosing herbs and spices from jars, butchering meat, and harvesting the vegetables for the delicious meals and bread she'd make three times a day.
When I was about eleven, I asked her if she'd teach me to cook. Without skipping a beat, she told me that I already knew how to cook. I guess she'd been watching me watching her.
I have vivid memories of her telling me that the most important thing I needed to know was how I wanted it to taste. And that's how I cook today.
When September comes, it seems time for fewer salads and more foods that warm and comfort. Since I'm eating little or no red meat these days, I'm experimenting with fish, poultry, rabbit, emu and ostrich.
My latest foray is a chicken stew. I think you could probably use whatever vegetables strike your fancy dependent upon what you prefer. I encourage you to experiment. You'll note that this stew has very little starch. The thickener is OKRA. I just love okra.
Here's what I did. Try it and see if you like it.
How do you want it to taste?
Louise's 2003 Fall Chicken Stew
This stew is fabulous from my point of view. It's like gumbo without the roux. I used: One heavy Iron Frying Pan and One Large Heavy Stew Pot
The ingredients are:
12 Chicken thighs (and you can use your favorite part of the chicken)
The chicken thighs were seasoned with the seasoned salt, dried basil, garlic and lemon pepper
Red and yellow bell peppers
2 large Sweet Onions (as much as you like)
5 Medium Carrots (forget this if you're doing Atkins diet); Substitute celery or zucchini
Fresh Garlic (lots and lots) - You can leave the cloves whole and be overwhelmed by the incredible sweetness of cooked garlic. It's absolutely divine!
Fresh Basil (as much as you like)
2 lbs. Fresh Okra ( I like lots)
If you're unable to find fresh okra, the tinned stuff (you can tell how I feel about it, eh?) will have to do.
All of the fresh vegetables are very coarsely chopped. You always want to recognize them in the bowl. There's almost nothing worse than wondering what you're putting into your mouth.
Ground Habanera Pepper (to taste)
Dried Fijian Peppers
Cinnamon Stick
Seasoned Salt
Lemon Pepper
Dried Basil
Dried Granulated Garlic
French Sea Salt
First: I put Extra Virgin Olive Oil in the iron frying pan and heated the Olive oil until it began to smoke just a bit. I added the dried Fijian peppers and fried them until they gave off some of their heat. Then I turned down the heat under the pan and added the ground Habanera pepper - I added the chicken thighs and browned them in the olive oil. It's important to brown the chicken very well.
I transferred the chicken thighs to a large heavy stew pot that was over a medium low heat reserving the olive oil in the pan for frying all of the vegetables.
Stew the chicken until it's tender
To get all of the goodness out of the bones, add a tablespoon full of white vinegar. You'll be able to chew the bones. That's something I loved to do when I was a child.
I added about ½ cup of water to the pot with the chicken and the cinnamon stick
I then fried all of the vegetables and put them on top of the chicken disturbing nothing
I stewed this wonderful concoction for about half an hour and then I added a bit of French Sea Salt and mixed everything together. The chicken was nearly falling off the bone by now.
Is your mouth watering yet?
Prepare some Basmati Rice
Chop some wonderful fresh garden tomatoes
Yogurt or sour cream (my preference is sour cream)
To serve - Put rice in a bowl, add chicken stew atop the rice, add tomatoes atop the stew and yogurt or sour cream atop the tomatoes. It's kind of like a vegetable sundae.
Serve with some crusty bread and butter and a nice bottle of your favorite beverage with your favourite person - remembering, of course, that your favourite person could be yourself.
Enjoy!
Note: I purchase my fresh garlic from Linda's Garlic Farm. Phone 250.479.8565 or email czoknek@islandnet.com and be amazed at the beautiful locally (Victoria, BC, that is) grown garlic.